WHAT IS MISCEA
AQUALIBUR TECHNOLOGY?
Faucets with miscea aqualibur technology enable water flushes to occur discreetly inside the fitting, without exposing occupants to potentially harmful aerosols, chemicals or hot water. The flushes reach all the way to the aerator in the tap outlet.
SAFE & DISCREET INTERNAL WATER FLUSH CYCLES.
A special valve built into the sanitary fitting allows scheduled flushes, cleaning, and disinfecting the fitting to occur internally. This makes thermal- and chemical disinfection procedures safer to perform with no risk of exposure to scalding accidents, contaminated water droplets or aerosols created during flushing procedures.
AUTOMATE WATER FLUSH PROCEDURES WITH MISCEA AQUALIBUR.
Automate water flushing procedures with the miscea aqualibur system for prevention of waterborne bacteria. Cycles are adjustable with the miscea remote control or miscea Connect App (sold separately).
REDUCE OPERATING AND MAINTENANCE COSTS.
Reduction in time-, labour-, and cost-intensive manual flushing procedures.
Reduction in payroll expenses.
Reduction in water costs.
CENTRALIZED MANAGEMENT AND CONTROL WITH THE MISCEA CONNECT APP.
Sanitary fittings with the miscea aqualibur system are equipped with a Wi-Fi module that can be controlled via the miscea Connect App - the web-based application from miscea that is connected to a secure cloud server.
HOW DOES IT WORK?
The miscea aqualibur system is a comprehensive solution for water quality control within a premise plumbing network. The system works to firstly prevent bacterial outbreaks in water systems within a facility and to secondly enable effortless disinfection of the system in case of bacterial outbreaks. The technology consists of the following components:
+ INLINE CIRCLE SYSTEM (ICS)
This is a special valve built into the sanitary fitting that allows scheduled flushes, cleaning, and disinfecting the fitting to occur internally. The purged water flows directly into the aqualibur HyDrain. During thermal disinfection, fittings can be blocked from usage or switch to a safe water temperature and release for use only when the water reaches a safe temperature. During chemical disinfection, fittings are blocked from use.
+ MISCEA HYGIENIC DRAIN (HYDRAIN)
This is an unobstructed free outlet developed according to DIN EN 1717 and features overflow sensors. The HyDrain prevents regressive contamination of the system and automatically blocks the system from use if the overflow sensor comes in contact with water.
+ MISCEA CONNECT APP
Connect miscea aqualibur sensor faucets to the miscea Connect App to centrally control and efficiently manage sanitary fittings within a facility, while also getting the necessary documentation in accordance with regulatory requirements.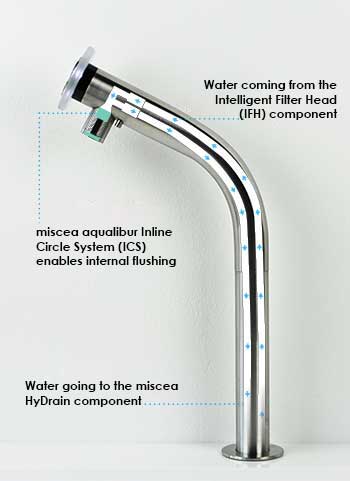 Inline Circle System (ICS)miscea HyDrain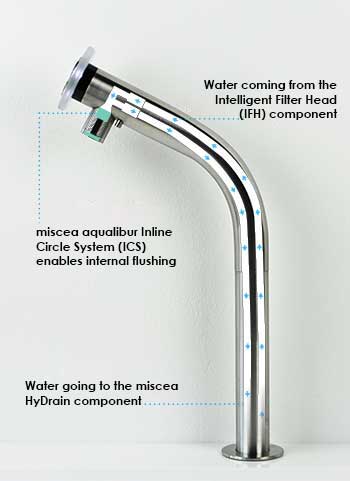 MISCEA
AQUALIBUR SYSTEM

OVERVIEW

miscea sensor faucets with innovative miscea aqualibur Technology - a unique preventive system against water stagnation, retrograde contamination and the formation of a biofilm.
MISCEA CONNECT
WEB APPLICATION
STAY INFORMED ON WATER USAGE PATTERNS AND EASILY CONFIGURE MISCEA SENSOR FAUCET SYSTEMS
Optionally available for management and configuration of all faucets fitted with miscea aqualibur Technology is the miscea Connect Web Based Application – an easy to use online platform that collects data through a Wi-Fi connection, from every faucet using miscea aqualibur Technology on the premises.
For detailed product information about the miscea Connect Web App, please contact miscea at berlin@miscea.com.