HOW DOES THE MISCEA
COLDSTREAM FILTER WORK?
The three principles used in the miscea Coldstream Filter System that work to keep your water safe are adsorption, entrapment and biocide. Each layer in the filter is designed to protect against different contaminants in the water.
INNER CARBON CORE
The inner carbon core protects against chemical contamination, including pesticides and herbicides through the process of adsorption. Adsorption is the adhesion of atoms, ions, or molecules from a gas, liquid or dissolved solid to a surface.
WHITE MIDDLE CERAMIC LAYER
Surrounding this is a unique white ceramic middle layer that removes particles and microplastics through entrapment and it also provides maximum anti-bacterial protection.
BLUE OUTER CERAMIC LAYER
The outer layer is the duck egg blue ceramic containing antimicrobial properties, which helps to eradicate any waterborne pathogens.
PERFORMANCE DATA
The miscea Coldstream Filter System has been tested for removal performance for over 70 contaminants simultaneously. It is one of the most cost-effective filtration systems that requires no power, filters 100% of water used and leaves behind only essential salts and electrolytes for safe and healthy water. *For testing information and the full list of contaminants the miscea Coldstream Max Filter offers protection against, please download the product data sheet here.

BACTERIA
99.9% removal of bacteria and cysts* like E. coli, Shigella, Cryptosporidium and Giardia.

VIRUS
99.9% removal of viruses and disease-causing micro-organisms, like Rotavirus.

PARTICLES
99.9% removal of particle class 1, incl. microplastics.

HEAVY METALS
99.9% removal of heavy metals incl. lead and mercury.

PESTICIDES & HERBICIDES
99.9% removal of pesticides and herbicides, incl. DDT.

PHARMACEUTICALS
99.9% removal of pharmaceuticals.

CHEMICALS
99.9% removal of volatile organic chemicals*, nitrates, nitrites, chlorine and chloramine.

SCALE INHIBITOR
Effectively inhibits scale in hard water areas*








The miscea Coldstream Max Filter effectively and simultaneously protects against 99.9% Bacteria, Virus, Particles, Heavy Metals, Pesticides and Herbicides, Pharmaceuticals, Chemicals while effectively inhibits scale in hard water areas.*
PROTECTION AT THE POINT OF USE
WATER HYGIENE IN HEALTHCARE SETTINGS
Not all parts of a water network can be reached by systemic disinfection procedures. Chemical treatments can eliminate free floating bacteria but it is often ineffective against biofilm and may result in hazardous by-products during use.
Heat and flush procedures may only have short term effects. It has been reported, some strains of Legionella can actually become heat resistant after heat treatments over time. Thermal procedures could have undesirable effects if the hot and cold water pipes are located too close to one another and could increase the risk of biofilm in cold water.
As an additional control measure to ensure harmful bacteria, viruses and other contaminants are removed from the water directly at the point of use, the miscea Coldstream Filter System can be conveniently installed under the sink to effectively minimize the risk of transmission of waterborne pathogens.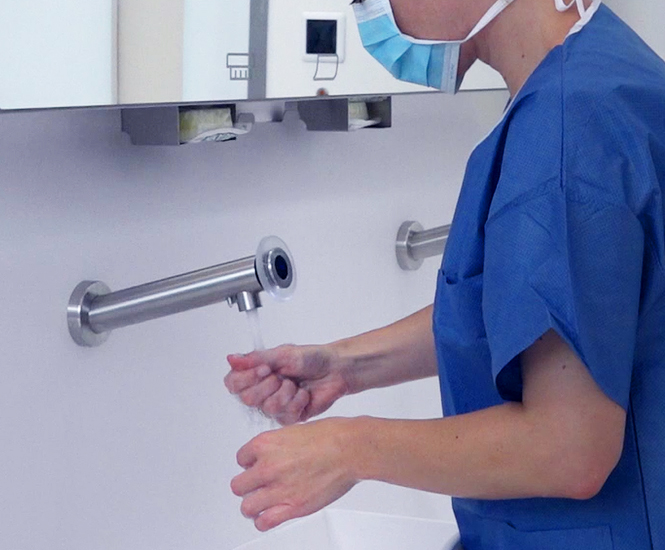 MISCEA
COLDSTREAM FILTER

SYSTEM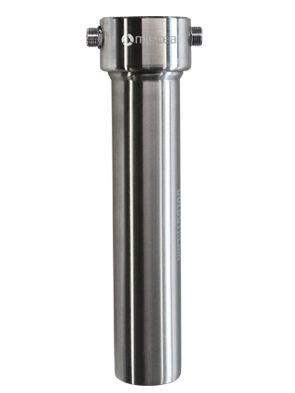 FILTER CASE
High quality stainless steel case for coldstream max filter cartridge.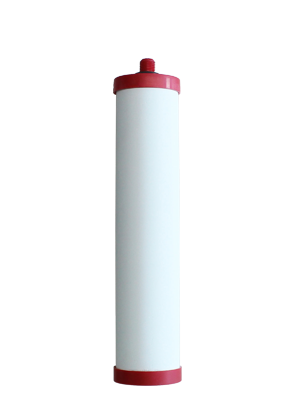 FILTER CARTRIDGE
Ceramic water filter protecting against over 70 known water contaminants. Sold separately.

FILTER CARTRIDGE
Ceramic water filter protecting against over 70 known water contaminants. Sold separately.
TECHNICAL SPECIFICATIONS
Dimensions
Operating Pressure Range
0.6 – 8.6 bar
Rated Capacity
6000 L
Operating Temperature Range
5 ℃ - 70 ℃
Rated Flow
2.5 - 4.5 L/min
Finish Options
Stainless Steel
Finish Options
Stainless Steel